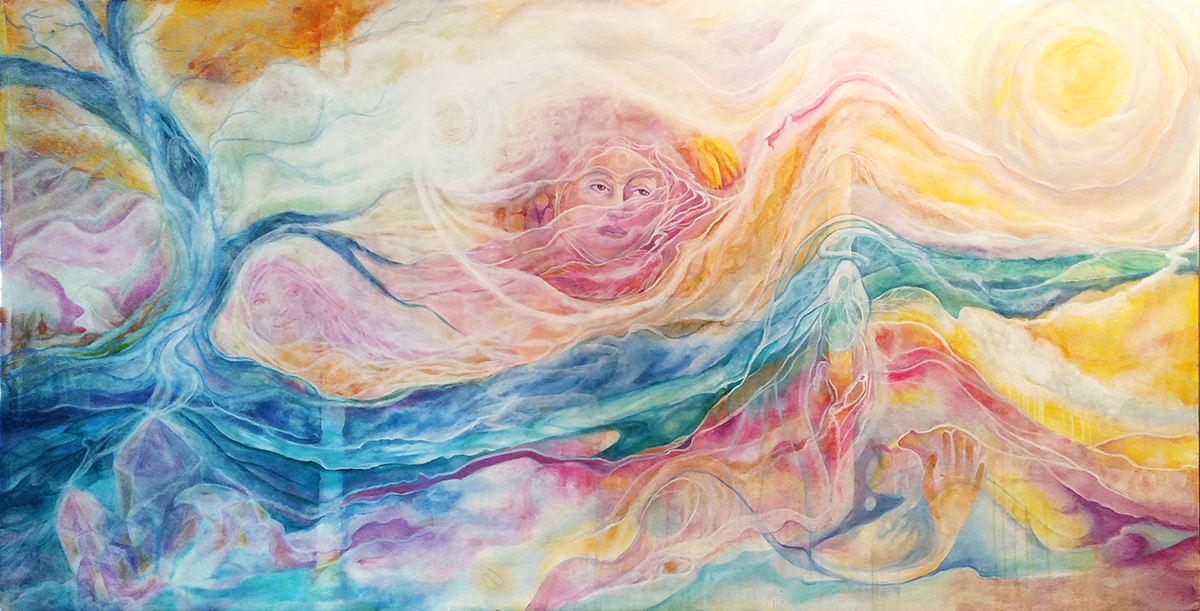 The river of life flows through all, fills us with life, connects all of life. The sun, the moon and our Dear Mother Earth spin  and circle in their celestial dance. 
The river of life flows through all, fills us with life, connects all of life. The sun, the moon and our Dear Mother Earth spin  and circle in their celestial dance. 
The symbiotic effort involved in creating the River was the first time either of us had ever painted a canvas in this way. It was so spirit liberating and enriching, that we have vowed that it will not be the last.
Both  Mary and Dena are professional artists on their own. As a collaborative piece this  painting combines the best efforts of both of us.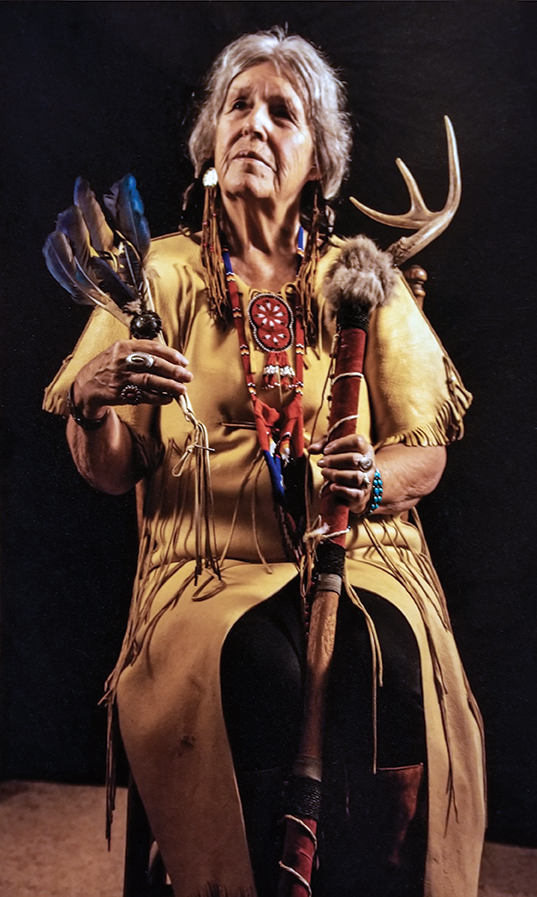 Mary Bear Schubauer
Words I love – "Art has been called the Holy Land where the initiates seek to reveal the spirituality of matter."
Hello, my name is Mary, Mary Bear Schubauer alias Indian Granny and a few other lovingly chosen names. I am an Earth Walker just as you are. We are all blessed to have a shared life on our beautiful Mother Earth.
I must paint and create objects of beauty to feed my soul daily. It is as nourishing as healthy food, clean air and clean water and love. I honor my ancestors through my art, as they give me images, songs, stories and poetry. I am a peace maker, peace walker, a student of Love, Compassion and Joy. I believe we are all from the same source of Love and Light, one world family, children of our sweet Mother World Family, children of our sweet Mother Earth. All indigenous to Planet Earth.
Blessings on your life sweet ones.
Mary Bear
The River
by Mary
Where do I begin? This blessing. This experience of meeting and co-creating with Dena. Two soul sisters brought together to create this work of art: The River. I have learned so much about Love, speaking of truth, facing fear, welcoming growth. Following this pathway with Faith and Knowledge that there was and is more than just the two of us involved in this voyage.
So many insights, whispers from our Angels, Guides, Ancestors into our hearts and minds. So much help from the unobstructed dimensions through Love. Thankfully, we listened and followed the visions as they came. Hugs, laughter, tears, deep emotions shared. Our Journey. We offer this to you. Our brother and sister of Mother Earth.
We struggle to put a price on this. This has always been tough for both of us. So we have again asked for insights from the blessed sources that serve us as Spirit Artists.
The number 11 is in the painting, the lines that divide the painting – the spacer on the right and left, the world of duality, the space between, the peace of Peace and Harmony, a path to unite us as one.
We choose to share the funds with, of course, the gallery. But, another dear to our hearts, an organization or plural ones, who are aligned and dedicated to healing and cleaning up the water of our Earth. We must have water to stay alive – to thrive. When the number came. We both sort of lost our breath, that much. 11:11 has been another fear for us to face and move beyond appearing daily as well as many combinations of Sacred geometry. We offer giclee prints of many smaller sizes so this spirit work can be shared and do it's work for all the hearts thatt are drawn to it. SAVE the Earth. CLEAN the Water, Clean the Air, as United Hearts we can do this. Let's make the next 7 generations proud of us.
Peace, Love, and Light to Us All
Our Flow
by Dena
The journey made visible by the painting called The River has been such a heart-filling blessing. For years, Mary Bear and I ran (without ever meeting each other) in the same circles in Auburn. When Rebecca Martinez introduced us to each other, we immediately recognized our sisterhood of spirit. It was a coming home experience.
When we were asked to team up on a painting for the expo, I was honored to be asked and to get to play with Mary. I never have done anything like that before. Spirit-guided, we danced through the process. The flowering of our friendship and the deeply spiritual adventure into co-creation has changed my life forever. I will be ever grateful for the depth of our connection and the precious precious time we have had the opportunity to spend together on this and other joyous celebrations.
11:11 – a day doesn't pass that I look at a clock at some point and it is 11:11. I will stop each time and and repeat to myself: "As above, so below, as within, so without." 
Google says, "According to numerology, the number 11 is a 'master number' which signifies intuition, insight, and enlightenment. When paired together, 11 11 is a clear message from the universe to become conscious and aware. Many people suggest that seeing 11 11 signifies that your spirit guides are attempting to contact you."
When we realized the 11 in The River, it was a declaration of importance of this gift. 
Blessings to us all.
To purchase the River, click here.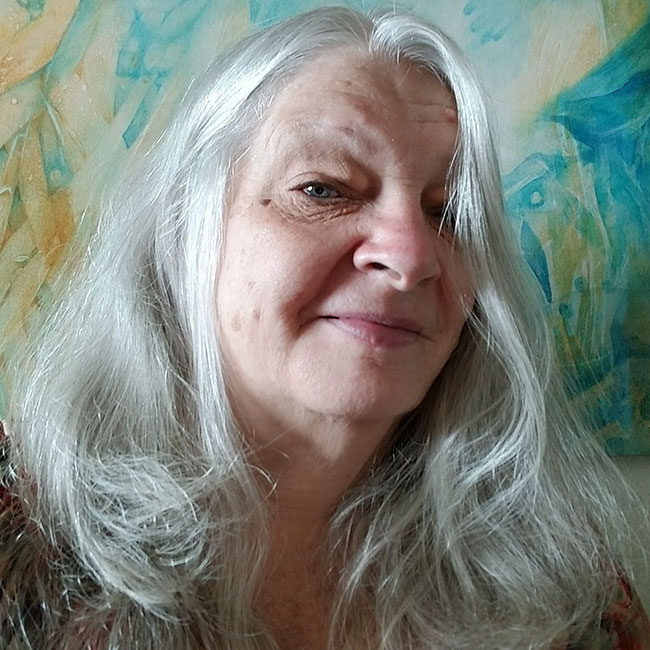 Dena Rae McKitrick 
"Every moment of life is a gift!"
I am Dena McKitrick. I'm passionate about living a purposeful life, and dedicated to living my mission: "To act as a catalyst for growth and healing by providing a clear channel for love, light, and creative expression. to the power of joy." I feel driven to create every day, to follow joy's clear and omnipresent guidance.
My creative process involves leaning into intuition, being present, practicing devotion to higher purpose, opening to guidance and actively trusting the process. These are the essential ingredients of all of my work, and especially came into play during the painting of The River.
I am an empathic Peace keeper – I hold peace in my heart for my tribe – for all of humanity, and other living beings on this planet, our big beautiful loving Mother Earth.
Honoring the Sacred Geometry:
Half of artists proceeds will go to one or more charitable organization(s) or group(s) that works to clean the water, the rivers, the earth. We will collaborate with you to choose the beneficiary.
Giclee prints on canvas, in various sizes, available.
Contact us for more information.
916.600.7917
 The Creation of The River
It began as a fund raising expo at Placer Arts, in Auburn, CA. 5 teams of 2 or more artists were set up in the big room, with an 8'x4′ canvas for each team, and all the most wonderful golden Heavy Body acrylic pigments that we needed. We were all expected to complete our paintings within the allotted 2 hours.
We began with prayer and a small personal ceremony, opening to guidance as we prepared to quickly paint. Although we had no plan, per se, we started by taping off sections. We chose our colors together. Mary started on the right side, Dena on the left, and we switched sides somewhere in the middle. We shared inspirations as we progressed. After 2 hours,  the canvas was completely covered, and the seed for The River was born.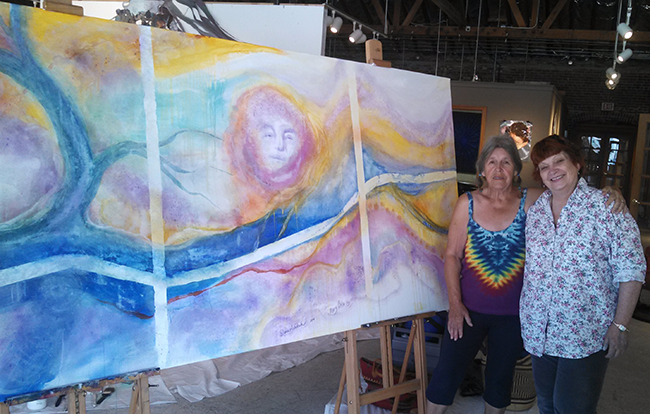 Two Years of Stasis
Originally, we had all been told that the paintings would be put up for sale or auction, as a fundraising effort for the Art Council. Instead, the paintings were not again displayed publicly, but were instead put in storage. Neither Mary nor Dena felt the painting was truly finished, or even close. We both wanted to buy it, or otherwise acquire access to it, to finish it, but it was made apparent that that was not going to happen. Eventually, we let it go.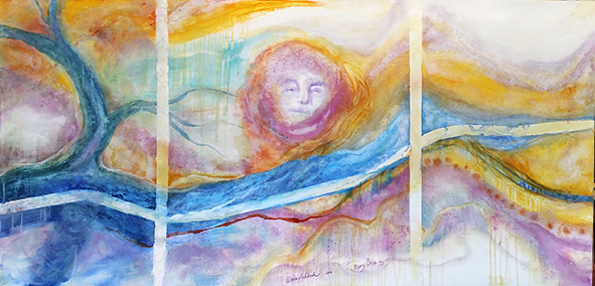 One day, the woman who had introduced Mary and Dena in the first place, as well as arranged the expo/fundraiser – Rebecca Martinez – showed up at Mary Bear's home in Weimar, with the painting. That was the beginning of submergence into discovery of what the painting was to become.
Over 2 years after the initial 2 hours of painting, we spent a weekend full of painting.  This is after 5 hours effort on Friday.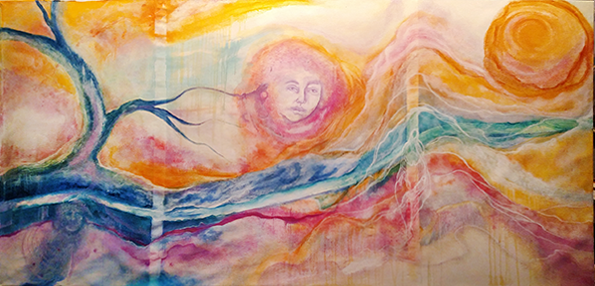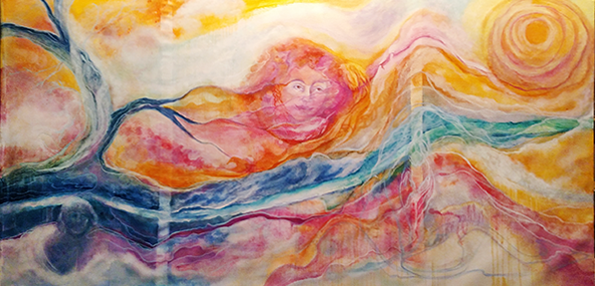 Saturday of that weekend, we spent most of the day, alternating contemplating and visualizing together with painting, changing sides or areas. 
Sunday we put in another 4 hours, and realized that we still had a long way to go before it was complete.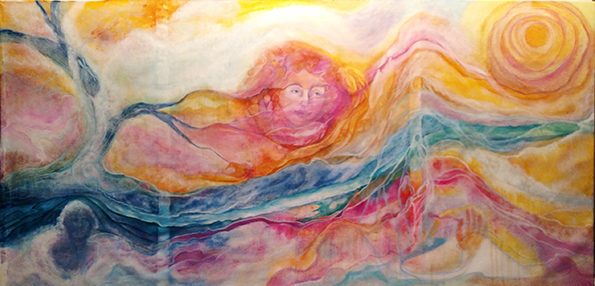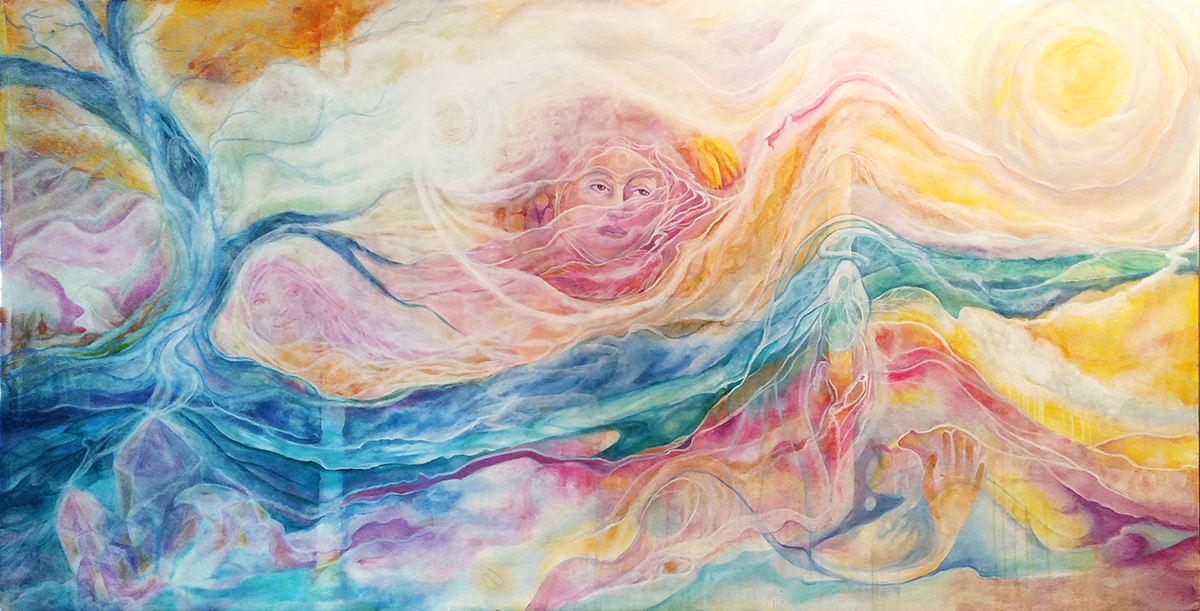 It took a couple more multiple day sessions, and some unifying finishing work by Mary to finalize the painting.