Readings and Fortune Sculpting
by "Gypsy Moon" Dena McKitrick
I empower individuals to sculpt their own fortune. By reading stones cast into a medicine wheel I provide the necessary insights – about what is really going on in a persons life right now, including: root causes, behaviors, attitudes and relationships that are influencing the situation – so that they may make informed choice and thereby create a life more to their liking.
A Stones of Change reading reflects many of the different layers of where you are on your life path right now. There are more than 60 casting stones, and over 120 stones in the medicine wheel. They each have a particular meaning. We cast the stones into the medicine circle, and through their relationship to each other and their placement on the map of the wheel they reveal your current situation.
Some things that are obvious to you will stand out, but even more useful is the stones ability to point out aspects of your life that may be hidden from you, beyond your current understanding, that you have not looked at or acknowledged, or that you have even denied. Here is the meat of it, the place where you can discover where and what changes you could make in your life to sculpt your fortune through the use of the stones.
The second part of a reading session is making those changes in your reading. As you change the reading, you actively set the intention of making specific different choices which will change your experience. Next, should you wish energetic support as you change the outcome, Dena-"Gypsy" utilizes one of several different healing techniques (guided meditation, drumming, toning, or channeled Blessing, to name a few), to assist you in changing your perception and perspective.
Currently, I am available for readings in person in my office in midtown Sacramento, California by appointment on the 2nd Sunday and the 4th Friday of the month. If you are interested in an in-person reading, please make an appointment. I may also be available by skype by special arranged appointment. A photo and a recording of the reading can be made available upon request. 

The situation associated with this stone is just as uncomfortable as it sounds. Whatever situation this points at - there is a huge emotional upheaval happening. This is notice that it is an important cleansing process. If the stones that indicate this situation are...
read more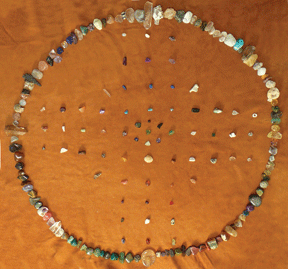 How's It Done?
The Medicine Wheel acts as a map for the Stones of Change reading. Every stone that makes up the circle has unique meaning, and is placed by direction and meaning in it's particular spot on the circle. The inner stones that are all lined up nice and pretty in this photo are gathered up. After a short meditation, contemplating the questions and situations one wishes to consider, and infusing those stones with that energy, the stones are cast within the circle.
The reading is based on the relationships between the stones, wherever they land. To begin with, we look at the relationship of one casting stone to another, where in the Wheel the stone lands, as well as the relationship between the casting stone and the nearest circle stone. This is just the starting place. Next, we look at many other layers of relationships between stones and their placement in the map, digging deeper to discover the causes or underlying circumstances of the current situation.
Readings can be as simple or complex as one wishes to delve. I have whizzed through introductory 15 minute readings, and only stopped readings after almost 3 hours because of outside commitments
Dena McKitrick has had an intuitive connection with rocks and stones all of her life, so it is not necessarily surprising that the Stones of Change came to her in meditation. Her spirit path training and experience is an eclectic mix of old and new, East and West.
That diversity, including 13 years study with Swami Tay, Urban Shaman training with Serge King, Kahuna healing with Laura Kealoha Yardley, 15 years of traditional sweat lodge and other ceremony, Alpha Awareness training, and Medicine, Goddess and Women's circles is blended in her being as well as many years of readings and healing work. She has taught and/or lead ceremony in various places, including Women's Wisdom Circle.